Ice cold Ruski's
What do you know about Russian Politics?
Me? Little to none. I did a CAT* on it in Year 12. But that was all Lenin and Trotsky stuff and I'm a little sketchy on the details.
You don't hear so much about the frozen Russians now days though. I can't tell if that's because the
Pale Gnome
is good at fixing things, or good at covering things up.
He's an interesting fella.
Vladimir sad
Vladimir mad
Vladimir happy
Vladimir in Hell
Vladimir and his hat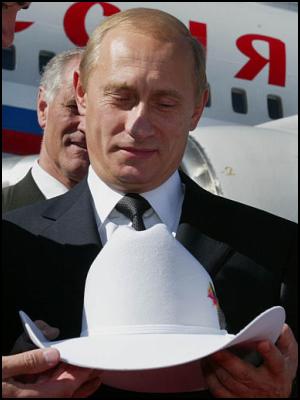 So Bond villain-esk, right now
Anyways... I was reading my weekly food industry update yesterday morning and came across
this
little nugget.
Those Russians sure do love their Vodka. It's a freakin multi-billion dollar industry. And the government want to take it back. Perhaps this is Vlad's knack for keeping his peeps warm. Get 'em sozzled on Wodka and spend the profits on NQR space equipment.
That's really all I have to say on the whole deal.
Sorry.
I'm tried from moving and watching
various
billionaires
on TV last night.
Na zdorvje
*A CAT is a Common Assessment Task. A major assignment in last year of high school.