What ever happened to Nathan Cavaleri?
Cavaleri Query number 1: Which came first the cancer or the fame?
Apparently the cancer. but hey give the kid some cred', he hung with BB King.
"Nathan Cavaleri is a young Australian boy who was diagnosed with cancer; he came to the Medias attention when he got his wish of jamming with Mark Knofler during one of dire straits tours here.
Nathan was taught guitar by his father from a very young age (3 years I think from memory). Following Nathan's televised jam session with Mark Knofler he shot to celebrity status rapidly, travelling to the USA where he played backup and duo's with world renowned blues players such as muddy waters and others. Nathan also made guest apperances in television shows such as Baywatch."
You think Baywatch is good, but the more info you uncover the better. It was actually
Baywatch Nights
. Baywatch's ugly twin sister, even more hideous than the first.
Cavaleri Query number 2: Where are they now?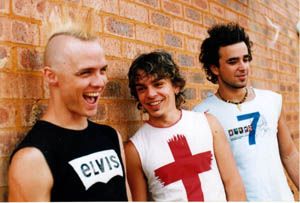 Look how tough he is now with his blond tips. Butter wouldn't melt in his mouth.
Oh this is an absolute gem. I have to go and check these guys out!
Ha! They call themselves
The Dirty Skanks
because of the girls in the front rows of their shows. Charmers.
And their first single is called MILF! And it goes a little something like this...
Talk about bored housewives,
Watching them Days of Our Lives
Don't hold me tight
Take a bite
Fuck me in the kitchen
While hubby's workin' wishin'
Gold.
Another child prodigy turned drug toking scum-bag. I heart Nathan Cavalri.